Top up your calorie burn with daily chores!
Are you struggling to lose weight?
Are the pounds piling on around your waist even when you go on a diet?
Do you keep promising yourself you'll join a gym to blast the meno-belly but never quite get round to it?
If you're an exercise avoider, it's good to know that daily activities count towards your weekly total and can really help to burn off calories too. This is great news during perimenopause when the pounds seem to pile on and become harder to shift.
Menopause is also a time when exercise become harder for many of us. With aching muscles and joints, poor sleep, fatigue and lack of motivation, it's hardly surprising that one third of women just stop being active at the time when they need to be moving more.
So even if you can hardly manage couch to kitchen, never mind couch to 5k, it's good to know that housework and gardening count towards your weekly goal of 150 minutes of moderate intensity exercise. The more energy you put into the task, the more calories you will burn, so make sure that whatever activity you're doing, you feel warmer, your heart rate rises and you are breathing harder.
How many calories you burn depends on your age, height and weight but the figures below will give you a good idea.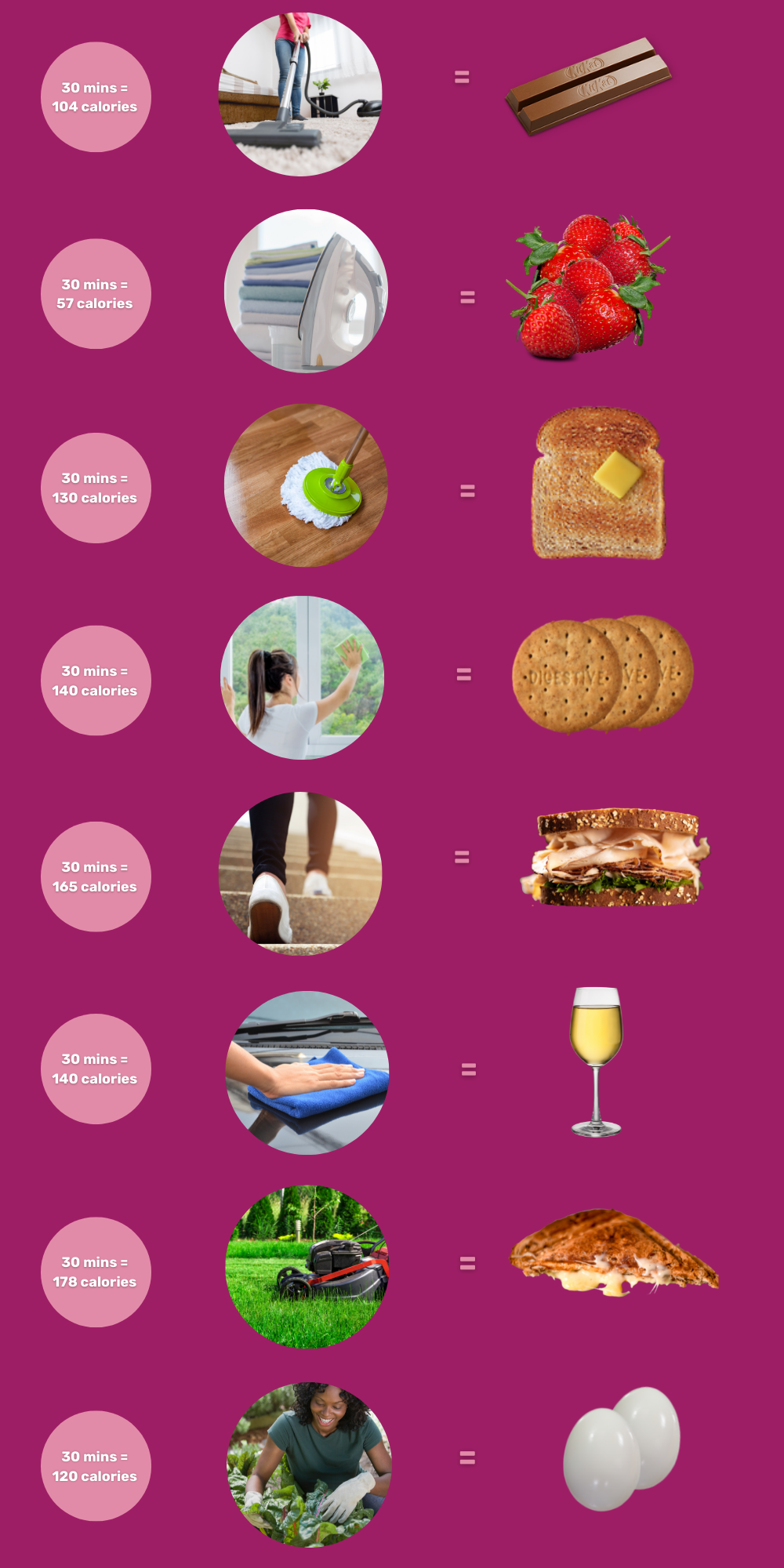 Remember, activity does far more than just burn calories.
All these chores are a top to toe workout as you're reaching, stretching, lifting, pushing, pulling, turning and bending. And as muscle is more metabolically active than fat, the stronger you get the more calories you can burn – even when you're sleeping.
Additional benefits are that exercise and physical activity helps to reduce insulin resistance and inflammation, strengthens muscles and bones, boosts brain cells and lifts our mood too.
So turn the music up loud and turn your weekly chores into a calorie burning, health improving, age-defying, satisfying workout.
The take home message is – all activity is good for you so just get moving!